With a focus on student safety and adherence to COVID-19 guidelines, services of the Crimson Career Closet will not be offered until further notice. Please contact the Career Center at 348-5848 if you have any questions.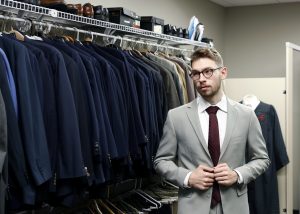 The Crimson Career Closet, located next to the main office in 3400 Ferguson Student Center, houses professional clothing that students and alumni can borrow at no cost for interviews and other job-related purposes. Students may borrow items such as button-down shirts, blouses, blazers, pants, skirts, ties, and suits.
Students may check out as many items as they need, as long as they are in good academic standing with the university and have no overdue rented items. Items may be kept for up to seven days, and may be returned any time during normal business hours. Students will be required to complete a rental agreement upon checking out clothes.
Crimson Closet appointments can be made through Handshake or at 205-348-5578.
Donations
You can make a tax-deductible donation of new or gently-used professional clothing to the Closet. Due to our limited space and growing inventory, we are seeking to be intentional about what types of items we accept. Please ensure donations are of professional attire (no accessories) in a modern style appropriate for undergraduate students. We kindly ask that you please dry-clean items before donating.
We have a particular need for:
Women's clothing (all items), sizes 4 and under and 12 and up
Men's jackets size 34 and up
Men's pants size 34 and under
We also gladly accept monetary donations to the closet. To donate, please visit the UA Giving Page and search for "Crimson Career Closet Support Fund" under "Search All UA Funds."