Looking to spice up your Professional Attire? Check out Crimson Closet's Free Fridays! Starting Friday October 19, every Friday between 11 a.m. and 4 p.m., students, faculty, and staff  who drop by the Career Closet can choose professional attire from a selected assortment to add to their wardrobe for free. Unlike clothes in the rest of the closet, these clothes are yours to keep! 
Crimson Career Closet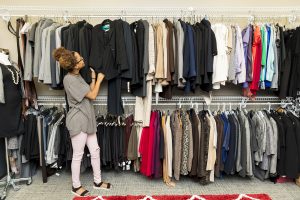 The Career Center is pleased to present the Crimson Career Closet, located in the annex portion next to the main office in 3400 Ferguson Student Center. The closet houses a variety clothing that students and alumni can use for business and other job-related purposes.
Students in need of business attire for professional interviews or events may borrow items such as button-down shirts, blouses, blazers, pants, skirts, ties, and suits. Appointments can be made with Closet manager Tariq Draine through Handshake or at 205-348-5578. Walk-in hours are 9 a.m.-5 p.m.
Up to four items can be checked out per visit. Items can be kept for up to seven days, and may be returned between 9-4 p.m. Monday through Friday. Students will be required to complete an attire rental agreement to ensure comprehension of the Crimson Career Closet rental policy.
Needed Items
The Crimson Career Closet is in need of the following items, which are tax-deductible:
Women's clothing (all items), sizes 2-4 and 12-16
Men's shirts and slacks, sizes 28-34
All shoes
Monetary donations are also accepted. To host a clothing drive or fundraiser for the Crimson Career Closet, contact Tariq Draine at 205-348-5578.
Updated October 11, 2018