Preparing for a career fair can be a bit complex, but don't let a lack of knowledge hold you back! Use the information on this page to make the most of a career fair as a student.
Fall 2023 Career Fairs
Getting Ready
What's the number one expectation employers have for students at a career fair?
They expect you to research your target employer(s) for the following:
Products and services
Types of skills or majors they need
Locations or anything else you'd like to know
You can make a list of your favorite employers using the Career Fair Plus App listed at the bottom of this page! This will help you map and plan your visit before you arrive at the career fair as well as navigate the floorspace of the event.
Career Fair Crash Courses
Talking to Employers
How do I talk to employers? What's the best approach?
Focus on having a professional, productive conversation. Talk about your skills and interest in the industry. Practice your introduction:
Example: My name is __ and I'm a first-year student interested in learning about internships for next year. I saw that you have internships in production, finance, and marketing and I wanted to learn more about those.
Be prepared to share your interests or recent experience or involvement. Employers may ask. You may be there for class credit, but don't let your introduction be, "I'm just here for a class." This is an opportunity to practice networking. Students who approach it that way are glad they did.
What if there are long lines?
That is not uncommon at our events. You can either visit other employers you want to talk to and come back or just wait for your turn. Recruiters are good and keeping conversations moving so you'll get your chance. Use that extra time to make some notes or review what you researched ahead of the event.
Do I need a resume?
It's a great idea to have one available in case a recruiter asks for it. Some may tell you to use their online system to apply and some will want the paper copy. Either way, you can have your resume reviewed using VMock (learn more about VMock here.)
Add your resume to the Career Fair Plus App as well! You can drop it to employers through the app.
How should I dress?
Wear something considered business casual or professional. Avoid shorts, flip-flops, t-shirts, jeans or revealing clothing as you may be asked to change attire before entering.
Use The Denise and Chandler Root Crimson Career Closet BEFORE the event. (Appointments are REQUIRED for the Crimson Career Closet. We try to accommodate walk-ins as best as we can, but this may not always be the case. Make your appointment on Handshake.)
Above all, remember the recruiters are there because they are already excited about what Alabama students bring! Research employers, be yourself, ask good questions and if you need assistance at a career fair, our staff is readily available to answer your questions.
Career Fair Plus App
The Career Fair Plus App allows students to access Career Fair information right from their phones. In the app students can: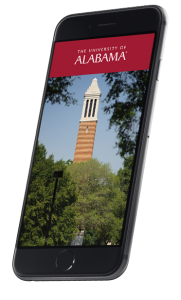 Browse employers attending the fairs
Add the fairs to their mobile calendar
Make notes about employers
Access table maps
And more!
Students can even make a list of their favorite employers before the fairs and check them off as they visit each employer during the fairs.
The app is free to download in the Apple App Store and Google Play. We recommend that students download the app in advance of the fairs and use it to do employer research before you arrive!