JCPenney Suit-Up Event
January 28 @ 6:30 pm

-

9:30 pm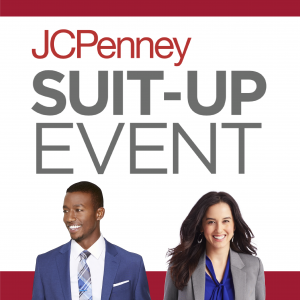 JCPenney will host a discount event for University of Alabama students and first-year alumni on Sunday, Jan. 28, 2018, from 6:30-9:30 p.m. at its store located at 1701 McFarland Blvd. E., Tuscaloosa, AL 35404.
RSVP via https://app.joinhandshake.com/events/100876/share_preview. This event is specific to JCPenney's Tuscaloosa location.
Download the general event flyer.
Download qualifying merchandise list.
Promotions
Promotions at the event include:
— Extra 40 percent discount on career dress apparel
— Giveaways from Sephora as well as additional prizes
— Free mini makeovers and salon consultations
— Xpress bad hair touch-ups
The first 200 to register for the event in Handshake will be eligible to win one of two $100 gift cards to be used at the event. Winners will be announced Wednesday, Jan. 17. Additional prizes will be available for attendees.
Transportation
Transportation to the event will be provided from the roundabout in front of the northwest side of the Ferguson Student Center. The first bus will leave UA at 6:15 p.m., with subsequent departures at 7 and 8 o'clock. Returning buses will leave JCPenney at approximately 6:30, 7:30, 9, and 9:45 p.m.
Qualifying Merchandise
Men's
Sub 503 Dress Socks
Sub 531 Dress Shirts
Sub 533 Ties / Neckwear
Sub 536 Belts
Sub 552 Sports Coats
Sub 553 Suited Separates
Sub 556 Dress Trousers
Men's Big & Tall
All Men's Big & Tall Dress included
Men's Shoes & Accessories
Sub 014 Dress Shoes
Misses Apparel
Sub 228 Misses Suits
Sub 251 Liz Claiborne Dresses
Sub 640 Career & Collections
Sub 814 Liz Claiborne Collections
Sub 851 Liz Claiborne Career
Sub 816 Worthington Pants
Sub 820 Worthington Skirts
Sub 830 Worthington Jackets
Sub 831 Worthington Sweaters
Sub 832 Worthington Knits
Sub 833 Worthington Wovens
Sub 848 ALYX Apparel
Dresses
Sub 219 Contemporary Dresses
Sub 221 Junior Dresses
Sub 222 Modern Dresses
Sub 223 Misses Dresses
Sub 224 Women's Modern Dresses
Sub 225 Petite Dresses
Petite's Department
Sub 729 Worthington Tops
Sub 730 Worthington Separate Sub
766 Liz Claiborne Collection Sub
768 Liz Claiborne Career
Plus Size Department
Sub 870 ALYX Apparel
Sub 943 Women's Boutique +
Sub 944 Liz Claiborne Career
Sub 945 Worthington Tops
Sub 946 Worthington Separates
Sub 948 National Brand Bottoms
Sub 962 Liz Claiborne Collection
Women's Shoes & Accessories
Sub 015 Junior Dress Shoes
Sub 018 Modern Casual Shoes
Sub 023 Modern Dress Shoes
Sub 024 Traditional Comfort Shoes
Sub 025 Traditional Dress Shoes
Sub 038 Junior Sandals
Sub 057 Modern Sandals
Sub 134 Comfort Dress Shoes
Sub 101 Scarves
Sub 116 Belts
Sub 121 Hosiery/Tights
Intimate Apparel
Sub 123 Hanes, Bali, Jockey Panties
Sub 124 Hanes, Bali and Playtex Bras
Sub 126 Underscore Bras
Sub 128 Ambrielle Bra Accessories
Sub 129 Shapewear
Sub 230 Maidenform Bras
Sub 142/235 Vanity Fair Panties & Bras
Sub 155/189 Warner's Panties & Bras
Sub 179/254 Ambrielle Panties & Bras
Sub 213/239 Flirtitude Panties & Bras