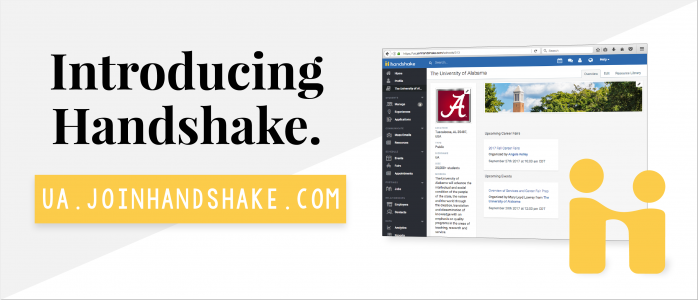 Career Center announces Handshake as new jobs/internships platform
Published May 12, 2017 | Updated Sept. 19, 2017

The University of Alabama Career Center is pleased to announce the transition from Symplicity (CrimsonCareers) to Handshake as its job and internship portal connecting students and employers.
Students will find Handshake, online at ua.joinhandshake.com, to be user-friendly and intuitive, says Amanda Ingram, the Career Center's director of operations. Ingram says students will enjoy the level of customization they have with their accounts, and that other institutions using Handshake praise the platform's user experience.
Among the key features Handshake lists for recruiters and its 3.5 million student users:
Students can quickly build rich profiles, enjoy continual personalization of career recommendations based on interests and connections, and search 500,000 postings by 120,000 companies.
Employers can use multi-school postings, direct applicant filtering, powerful applicant filtering, and dedicated employer training and support.
"So many employers are engaged in the Handshake network that it's really going to increase the opportunities that are being presented to our students," Ingram said. "You're going to be flooded with more jobs and employer connections than you've ever had before."
UA's transition to Handshake will be effective for employers on May 19, and June 22 for students. Until the student launch date, recruiters will continue to publish job and internship postings in CrimsonCareers. Employer postings and student documents housed in CrimsonCareers will expire or be purged by June 21.
Questions about the Career Center's transition to Handshake can be directed to 205-348-5848. For help getting started in Handshake, see the platform's on-boarding resources at teachme.joinhandshake.com.
Links
Handshake for UA: https://ua.joinhandshake.com
Handshake on-boarding resources: http://teachme.joinhandshake.com
Handshake highlights for students: https://www.joinhandshake.com/students/#student-highlights
Handshake highlights for employers: https://www.joinhandshake.com/recruiters/#employer-highlights
---
Handshake Hand Chair Gallery
Have you taken a picture with our Handshake hand chair? See yourself and other chair celebrities in the gallery!